The Conservatives would have won an overall majority of 16 at the last general election if a proposed boundary shake-up branded a "power grab" had been in place, according to analysis.
Revised parliamentary maps have been set out by the UK's four boundary commissions that would cut the number of MPs by 50.
Jeremy Corbyn's seat would be axed, and Boris Johnson's majority challenged, under the proposals.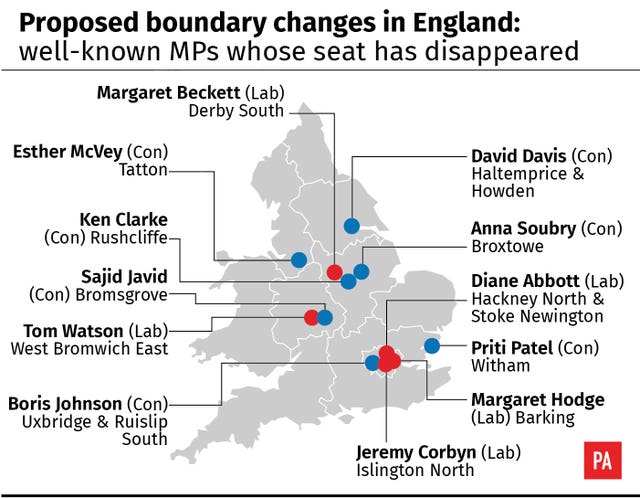 The planned new boundaries would have had a significant impact at the 2017 general election had they been in place at the time, analysis by commissioned by the BBC, ITV News, Sky News and the Press Association found.
Professors Colin Rallings and Michael Thrasher, from the Elections Centre at Plymouth University, found the Tories would have been left with a working majority of 23 once Sinn Fein's MPs, who do not take their seats, were taken into account.
Downing Street said the proposals, which give each MP roughly the same number of constituents, would ensure there is "fair and equal" representation for voters.
But a number of Tories are likely to oppose the plans, and the Commons Public Administration and Constitutional Affairs Committee has previously warned the overhaul is unlikely to pass.
Cat Smith, shadow minister for voter engagement, said: "These final boundary recommendations are nothing but an undemocratic power grab by this Tory Government.
"With no plans to reduce the number of ministers, the Government is weakening the role of Parliament and creating unprecedented levels of executive dominance at the expense of backbenchers, when Parliament is meant to be taking back control.
"Cutting the number of MPs by 50 as we prepare to leave the European Union is further proof this Government is clamouring to tighten its grip on power.
"With the workload of MPs set to rise after Brexit, with thousands of pieces of important legislation expected to come through parliament, it would be utterly ludicrous to go ahead with these boundary changes."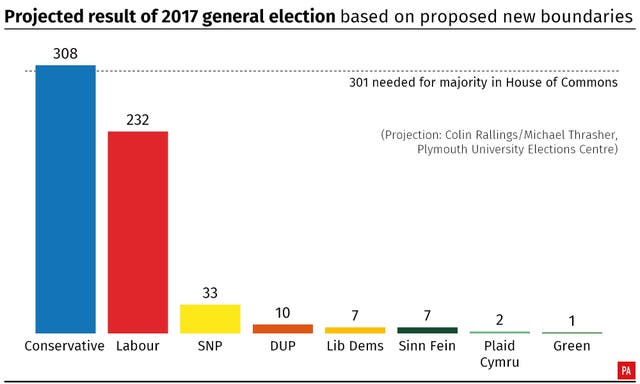 Labour's leader is the most high profile casualty under the proposed reforms, with his Islington North seat being wiped out. But it is expected that he will take over one of the redrawn seats in the area.
Former foreign secretary Mr Johnson faces a challenge to his 5,034 majority in Uxbridge & Ruislip South, with the seat losing Tory-leaning Yiewsley and gaining Labour-leaning Northolt.
Under the plans, based on rule changes introduced by the former coalition government in 2011, the number of seats will be reduced to 600.
The final recommendations from the boundary commissions are largely unchanged from a revised set out proposals set out last year.
The Rallings and Thrasher analysis put the Conservatives on 308 (minus 10), with the Speaker's seat counted towards the total.
Labour would have won 232 seats (minus 30), Liberal Democrats seven (minus five), SNP 33 (minus two), Plaid Cymru two (minus two), Greens one (no change), DUP 10 (no change), Sinn Fein seven (no change) Independents zero (minus one).
The Prime Minister's official spokesman said: "These reforms will ensure there is fair and equal representation for voters across the UK at the next general election.
"Also, it is important that I point out they have been drawn up by an independent boundary commission and that that follows extensive consultation."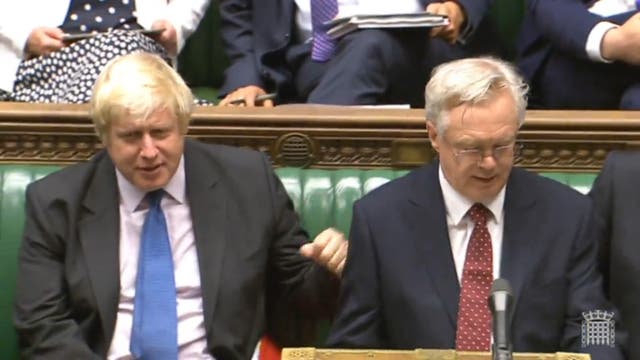 Sam Hartley, secretary to the Boundary Commission for England, said: "We've travelled the country, taken account of over 35,000 public comments, and heard many impassioned views about how best to reflect local communities in our recommendations, while ensuring that constituencies are all much more equally represented.
"We're confident that the map we propose today is the best match of the legal rules Parliament has set us. It's now up to Parliament to decide whether these boundaries will be used at the next general election."